New Delhi, June 01 : NTPC Green Energy Limited (NGEL) and Uttar Pradesh Rajya Vidyut Utpadan Nigam Limited (UPRVUNL) signed a Memorandum of Understanding (MoU) in Lucknow yesterday with an aim to collaborate in the development of Renewable Energy Parks and Projects and to facilitate in Government of India's efforts towards energy transition. The MoU was signed by Mohit Bhargava, CEO (NGEL) and Nidhi Kumar Narang, Director (Finance), UPRVUNL in the presence of P. Guruprasad, MD (UPRVUNL), Praveen Saxena, Regional Executive Director (NR) of NTPC. V V Sivakumar, GM (NGEL) and other senior officials of NTPC, NGEL and UPRVUNL were present during the occasion.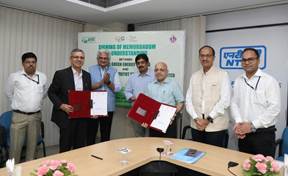 The MoU envisages the two organizations to collaborate through setting up of floating and ground mounted Solar Projects in the Rihand reservoir, other water bodies and any available vacant land, development of solar PV Project dedicated for solarization of Ayodhya city and setting up of Renewable energy Parks and Projects wherever land is made available. NGEL and UPRVUNL shall jointly work for formation of Joint Venture Company (JVC) to meet the Renewable Generation Obligation, Flexibility in Generation and Scheduling of Thermal/Hydro Power Stations through bundling with Renewable Energy and Energy Storage.
NTPC is India's largest Power Utility, with a total installed capacity of about 72 GW (including JVs and subsidiaries). As part of increasing its renewable energy portfolio, a fully owned subsidiary "NTPC Green Energy Limited" (NGEL) has been carved out which shall take up Renewable Energy Parks and Projects including development in the areas of Green Hydrogen, Energy Storage Technologies and Round the Clock RE Power.
UPRVUNL was constituted to set up and operate Power-generating stations in the state of Uttar Pradesh. At present UPRVUNL is having four Thermal Power Stations within Uttar Pradesh with an installed capacity of 5820 MW and one Thermal Power Station with installed capacity of 1320 MW under JV with NTPC. UPRVUNL is in the process of adding further 3300 MW capacity with super critical technology on its own and another 1980 MW in Joint Venture with CPSEs. At present, UPRVUNL is looking to diversify into Renewable Energy and Energy Storage sectors.