'India, Morocco need to join forces to fight terror groups like IS'
---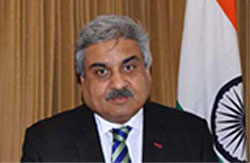 New Delhi, April 10 The "creeping forward march" of terror outfits like the Islamic State needs to be arrested and it is important for India to work together with countries like Morocco and others in the region to evolve a common joint strategy to fight the scourge of terrorism, a top official said on Friday.
Anil Wadhwa, Secretary (East) in the Ministry of External Affairs, addressing a roundtable on 'India and Morocco: Imperatives of Cooperation', here said that both India and Morocco are not strangers to repeated terror incidents. He said that both countries "need to fight terror through not just bilateral but also regional and international cooperation".
Speaking at the event at Hotel Claridges, Wadhwa said both countries share historical bonds, which is evident in the writings of 14th century Moroccan traveller Ibn Batuta who visited India and stayed on for a long time. He said that both countries "speak in one voice of the determination to combat terrorism in all its forms and manifestations. It is a phenomenon for which there can be no justification whatsoever," Wadhwa said at the talk organised by the Society for Policy Studies (SPS).
He said the forward march of the terrorist outfits like Islamic State in the Maghreb and Sahel regions of Africa cannot be arrested and reversed through merely a security approach. "It is important to recognize that the IS seeks to capture the hearts and minds of the vulnerable sections of the population, which makes it imperative for us to pose an ideological challenge by emphasizing the values of plurality , diversity, religious tolerance, moderation – values both India and Morocco subscribe to."
Wadhwa said it is important for India and Morocco to work together to evolve stronger cooperation in the field of counter terrorism and intelligence in order to develop an efficient mechanism in real time exchange of information and also to staunch the flow of terror finance.
"The setting up of a joint working group on terrorism between India and Morocco can no longer be postponed. We have been talking about it for a long time," the top official said. He also said that inking of an extradition treaty and a mutual legal assistance treaty in criminal matters would add to the cooperation.
He said that "immense potential" exists to take the relationship to a politically higher level and through higher level of interactions.
Moroccan envoy Larbi Reffouh said his northwest African country, which is part of the Maghreb region, promotes moderate, tolerant and progressive Islam and has restructured the religious field of the country, including the training of imams, in order to prevent extremism and jihadist ideology from gaining a foothold.
He said that cooperation with countries like India is essential in order to tackle the "plague of terrorism".
Reffouh said due to the strong efforts by his country to fight terrorism, over the past 10 years Morocco has been successful in dismantling 130 terror cells, arrested 2,720 suspects and prevented 266 terror plots.
Morocco has also begun imparting training to imams of the Arab world, Africa and Europe on moderate Islam. The country has also formed a group of 30 countries – Group of Friends on Counter terrorism – of which India and the five permanent members of the UN Security Council are also members, to tackle terrorism.